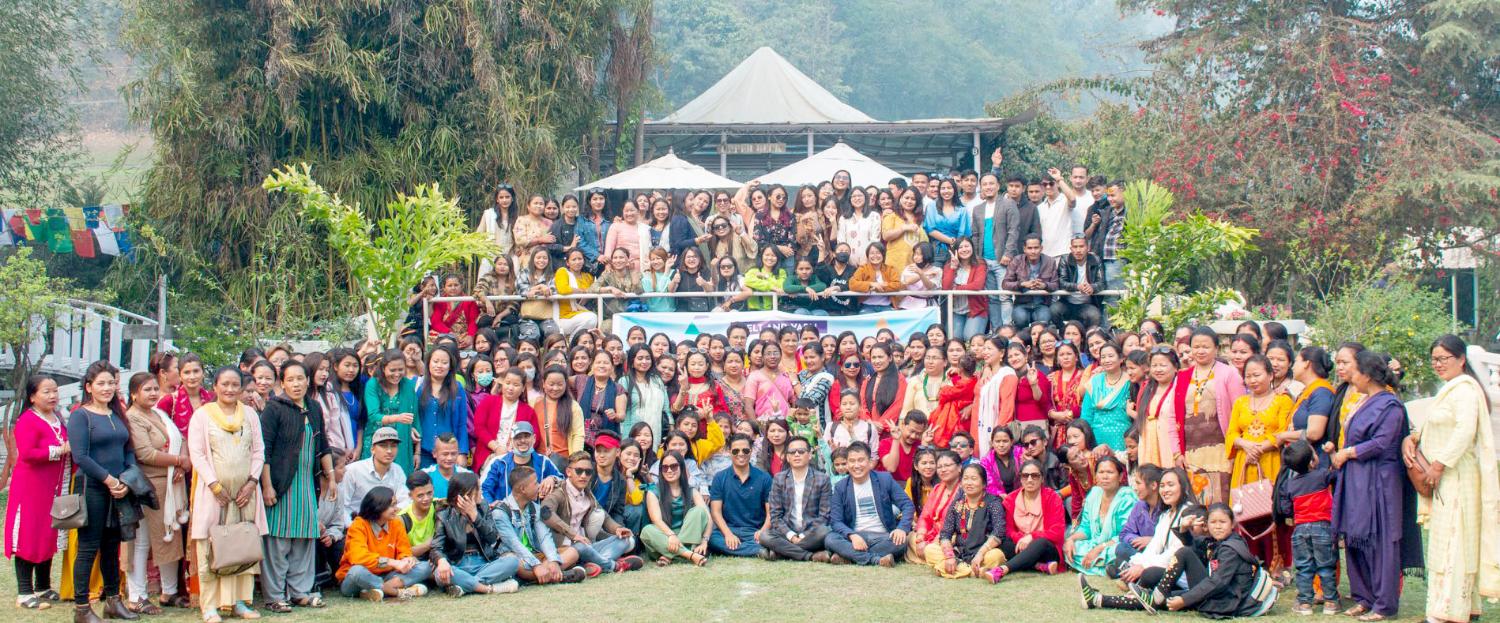 Namaste & Welcome from Felt and Yarn Family
Here at felt and Yarn, we are proud to provide premium quality, ethically produced, and eco-friendly handcrafted felt supplies. Ranging from home decor, cozy shoes, novelty cat caves, rugs, yarns, and many more! Our fine quality wool is processed by hand from local sheep and meticulously dyed and felted into gorgeous and whimsical items with love, from start to finish. Whatever you need, from themed holiday decor, colorful felt balls, to natural cat and dog toys; we have the perfect felted fun for your home.
Our production is centered around employing local household Nepalese women, providing them with training, fair wages, and a safe working environment, by choosing Felt and Yarn you choose to support sustainable, eco-conscious craft and make upskilling the people of our remote villages possible. Thank you, enjoy our soft, colorful products!
Our Core Values – Green Applications
Quality
The best quality is felt with any of the items we offer. We hold high standards in production. Our brand promotes qualitative products at reasonable rates. The felted items are consistently dense to give a premium feel. We use 100% pure wool to make our beautiful range of felt items that makes all of our products biodegradable and non-flammable. 
Environment Sustainability 
For Felt and Yarn, Green is the new black. We always advocate eco-friendly items. For maintaining consistent international standards of production and working conditions, Felt and Yarn have been bestowed the GoodWeave seal for fair trade. From farm to hand, we do not compromise on sustainability and always have a foot forward to reduce the carbon footprint. 

Integrity
Transparency is what binds the team and our stakeholders together. Along with maintaining professionalism, we respect honesty and decency. We prioritize following through our words and providing all the required information transparently to our beloved employees, valuable customers, and all stakeholders along with respecting their privacy.
Creativity
Anything under the sun can be felted given the feasibility to produce the desired products. Our designers and crafters are well-trained to bring your imagination to life. Crafting with felt allows flexibility to create endless durably designed products. At Felt and Yarn, functionality is equally prioritized so that you can add value to the existing felt items to create gorgeous garland and other DIY crafts. What more? You can wear a creative hat and work with 100 color options that are treated to your eyes.
Payment
For hassle-free payment, we accept international payment methods listed below:
Bank Transfer
Credit Cards
PayPal
Please feel free to contact our representative for any queries related to setting up payment or getting the payment link.
Quality Control
In-house Inspection 
We have an in-house inspection team to ensure that your specific requirement has been fully met and has fulfilled your 100% satisfaction exceptions on the product level. We thrive to provide the best quality product as the product has to go through very strict different levels of quality checks before even moving to the packaging team. 
Handle with Care 
Once products are ready to be shipped, our dedicated packaging team will pack your product with care and store it in appropriate places so that it can be packed up by the courier company.
Ready to Ship 
What's worth noting is that even before we ship your goods, for the final inspection, the team will randomly pick a packaged box/s (depending on your order) to ensure packaging and product meets our high standard before we ship to you.
Certification
Good Weave Certification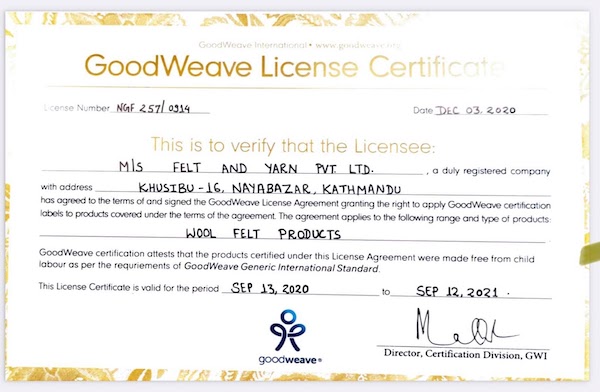 Goodweave is an international initiative against child labour in the carpet manufacturing industry. Their standards take into account social and environmental criteria in addition to combating child labour. 
The company is constantly being supervised and inspected by Goodweave. To corroborate the transparency, Felt and Yarn are compelled to welcome any unannounced evaluation by Goodweave officials; committing ourselves to consistently maintain high standards.
APPA Certification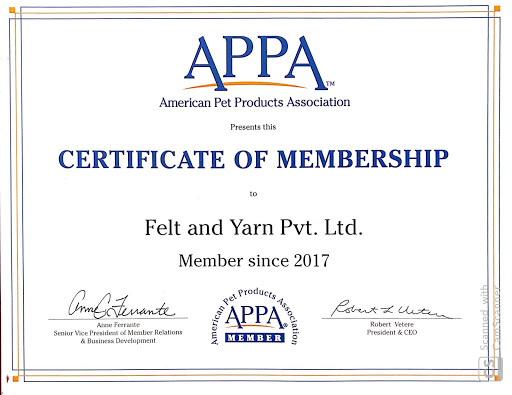 APPA provides the necessary services for the members to thrive. The association assists Felt and Yarn gain global recognition and with member benefits and services in response to our needs as the global pet product market changes. 
Contact
Registered address: Felt & Yarn Pvt Ltd, Puspalal path, House no : 1538 ,Khusibu Link Road, Kathmandu Nepal.