Treat your feet in the ultimate comfort with our luxurious wool felt slippers. Crafted with care, these slippers are made from the finest New Zealand sheep wool. The soft and breathable nature of wool ensures that your feet stay warm in the colder months and cool during warmer days, providing year-round comfort.
Whether you prefer the simplicity of plain slippers or the charm of beautifully designed ones, we have a wide selection of options to cater to your unique preferences. Also our wool felt slippers come in an array of colors, allowing you to choose the perfect pair that fits your every outfit.
What sets these slippers apart is their handcrafted origin in Nepal, skillfully made by a marginalized community of artisans. Each pair carries with it the essence of traditional craftsmanship, making them not just a fashion statement but also a celebration of cultural heritage and support for these talented individuals.
To make your shopping experience even more delightful, we offer free worldwide shipping. No matter where you are, you can now enjoy the pleasure of slipping into our handmade felt slippers.
Grab your pair today for a perfect fusion of comfort, style, and ethical craftsmanship and Join us in supporting the talented artisans of Nepal. Elevate your relaxation game today by choosing our premium wool felt slippers!
Select from the 12 Most Popular Colors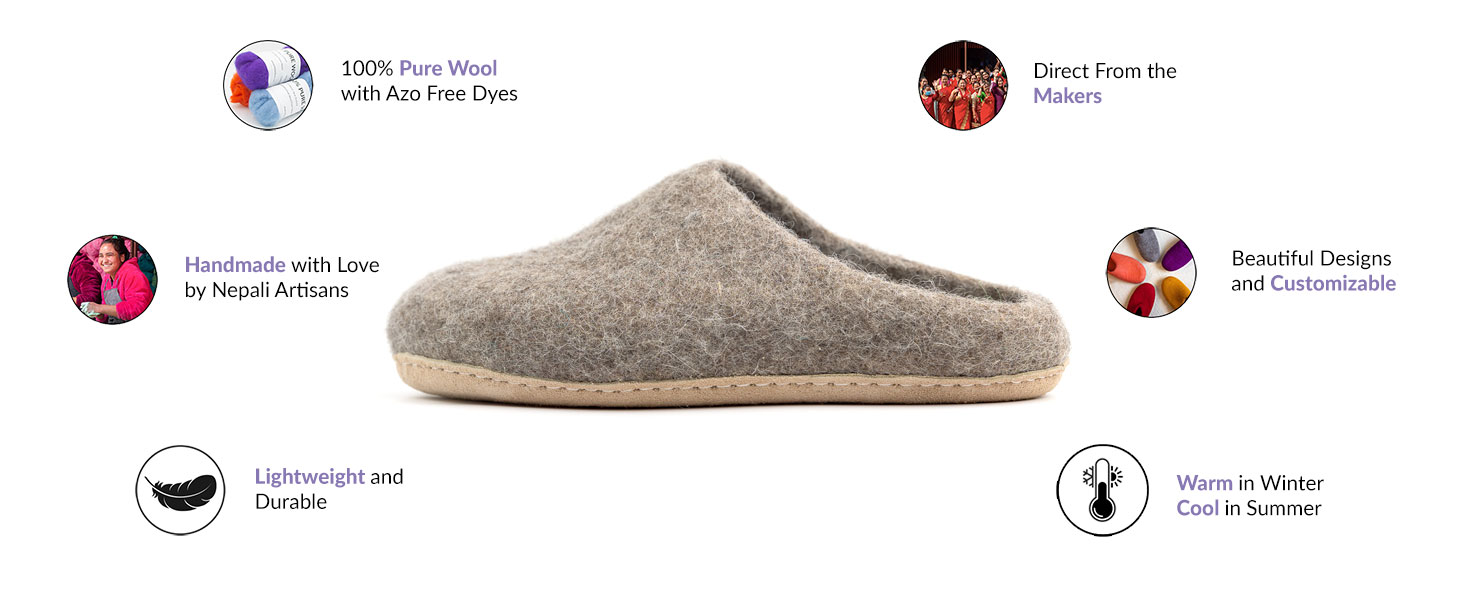 I received my beautiful slippers today. After delay by the local transport company Felt and Yarn's lovely customer service team got in touch with them. The problem was resolved by customer service. The slippers were delivered in good packaging and nicely gift wrapped inside, in an organza bag with r
... more
ibbon as well. They are beautifully made and also very warm! I am In love!
Erin f.

Quality, color and quick turn-around on shipping even when combined with custom-ordered slippers. Quick and clear communications exchanged as well. Excellent experience.
Kari Hietanen

Absolutely beautiful. Fine craftsmanship. Perfect!!! I could not be happier with these slippers!
Elise Petersen

I'm usually a size 7, if you're thinking between a 37 and 38, go for the 37. Mine are a little big, but will be fine.
Heidi

These slippers are what I was looking for. They have a nice soft sole, silent... it doesn't sound like I am wearing shoes when I am walking. They fit nicely around my foot. I probably could have purchased a size smaller had I not used an insole, but I use
Lora S.

Very high quality for the price and super fast shipping all the way from Nepal.
Elaine P.

Just wonderful slippers, great quality!
Ashley