Are things going a little rough for you? When will the fight for finding happiness end for you? Let me answer the question for you in the form of the stories of these three strong women from our manufacturing department. Their stories might give you a silver lining; leaving you with a bittersweet feeling. But one thing for sure, these stories will motivate you and restore your faith.
From prosperity to grapple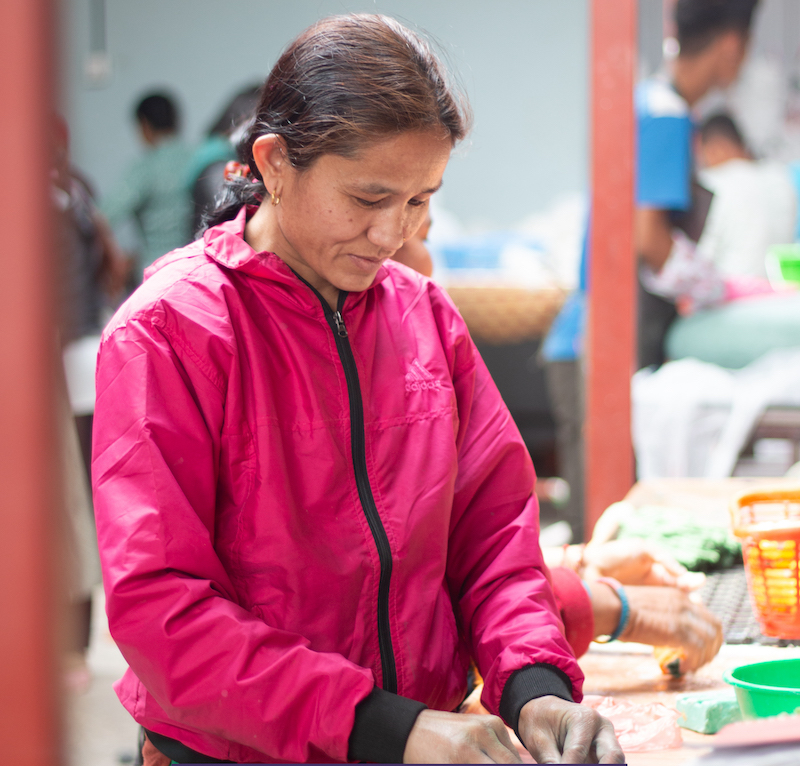 Ratna Khadayat
It's not always butterflies and rainbows. Sometimes we have rain and thunderstorms. The unpredictability of life is what makes it both fascinating and fearful. And, the unexpected misfortune hit Ratna Khadayat. Ratna Khadayat is a beautiful mother of three children who has been working with us for three years now. She is a true superhero and a woman who we all idolize. 
Four years ago, she lived in a remote small village of Gaitodi with her husband and three kids. The family was living off the former army's pension and income gained through woodcutting. Although the earning was adequate for food and shelter, it was grappling to provide proper education to her kids and secure planning for the growth of the family. She lived an unfulfilling yet content life with her family. 
But it all started going downhill when her husband met the unexpected and sadly passed away. She recalls that moment as her lowest and the hardest time. Unyielding from the tragedy, Ratna knew she conscientiously needed to take a big step and create change for the better. And at the age of 42, she traveled to Kathmandu in 2017 in the desperation of a better life for her; mainly for her kids.
She had to face quite a lot of challenges. She didn't have the required education degree and was unfamiliar with the city lifestyle. Not being able to properly cope with the change created more difficulties for her. With an inadequate education degree, she struggled with getting a decent-paying job. Withstanding the unconventional approach to life, she, fortunately, met the co-founder of Felt and Yarn, Sunita Sherpa who did not think for a second to give her platform to work and earn a living by being part of Felt and Yarn.  
The beginning phase of working in Felt and Yarn was not easy for her, as everything she was taught or exposed to, was very unfamiliar to her. She received felting handcrafts training from the Felt and Yarn without any charges to learn the skill of no-sew felt with the upfront payment to fulfill the scarcity in the family. Besides the challenges, the silver lining spurred her passion to learn diligently and hastily. The sun has finally begun to shine on her. 
Presently, she is capable of providing a proper quality of life for her children. With her head up high and her sheer hard work, she was able to educate her kids. Her oldest son studies in 12th grade and still plans on continuing his education whereas the second child is in 7th grade, her youngest bean is in 1st grade. Due to her incredible work ethic, she is now one of the most proficient artists and specializes in making felt hearts and felt stars.
Hardships and struggles on one side, Ratna managed to show the true potential of a woman. Along with other hard-working women like her, she managed to become a hero by giving a new life to herself and her family. Besides all the struggles she went through, she still has her values undefeated. 
United we are strong, divided we fall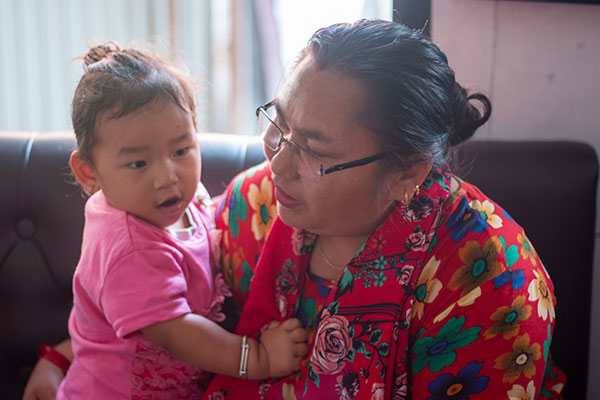 Sarita Tamang
Sarita Tamang is a beautiful lady from Dhading, district of Nepal who one day fell in love with a lovely man and got married. Her husband was the only breadwinner of the household who worked in animal husbandry. As she continued her journey, she was blessed with three children. She recalls the addition of the family as a gift from God, however, she was encountering hardship in raising the kids, and that was the only beginning of her poverty.
Her husband and she decided to move to the city, the capital of Nepal in hunt of better living. However, the expenses in living in the city only escalated, and one breadwinner was not adequate for a family of five people. Adding mountains on top of hills, her middle child was born with a disability. He is incapable of walking, eating, and doing other basic activities. Most of their earnings were contributed to his treatment. Due to that, she was compelled to start earning by herself. Her husband started working in any labor work he possibly could get his hands on, while she too searched for labor work. She later also involved herself in tailoring and also sold vegetables and food besides the streets. But she had to frequently visit home during work hours to aid her disabled son. 
While she and her family had to venture out in search of a proper job, her disabled son was always on her mind, constantly worrying her. He had to be locked up in a room while they were away. She had continuous fear of his well-being. And thoughts as such, if he was doing fine, if he had fallen, if he had eaten, or if he got into trouble. She always carried such worries with her, wherever she went. Later on, her husband was able to get a job as a butcher and have a constant income. But on another hand, they were still very short on finance. 
Sarita heard about a felt company, who made handmade wool crafts. As she had experience in sewing, she gave it a shot. Her talent was immaculate, in a very short time she quickly learned the felting techniques. Felt and Yarn give liberty for workers in need to choose to work from home. So, she was able to be beside her son yet earn simultaneously which was a huge help for her. She was given fair wages, and Felt and Yarn also assisted her with medication and treatment for her son. 
Today, her eldest son, who is 20, is pursuing his education which he was not able to previously, her daughter age 18 is a happy teen who is very sweet. Whereas her second child is still fighting the disability and unfortunately has not been cured yet. That being said, Sarita still hasn't given up and continues in the hope to find a cure for her son. 
The strength of motherhood is greater than natural laws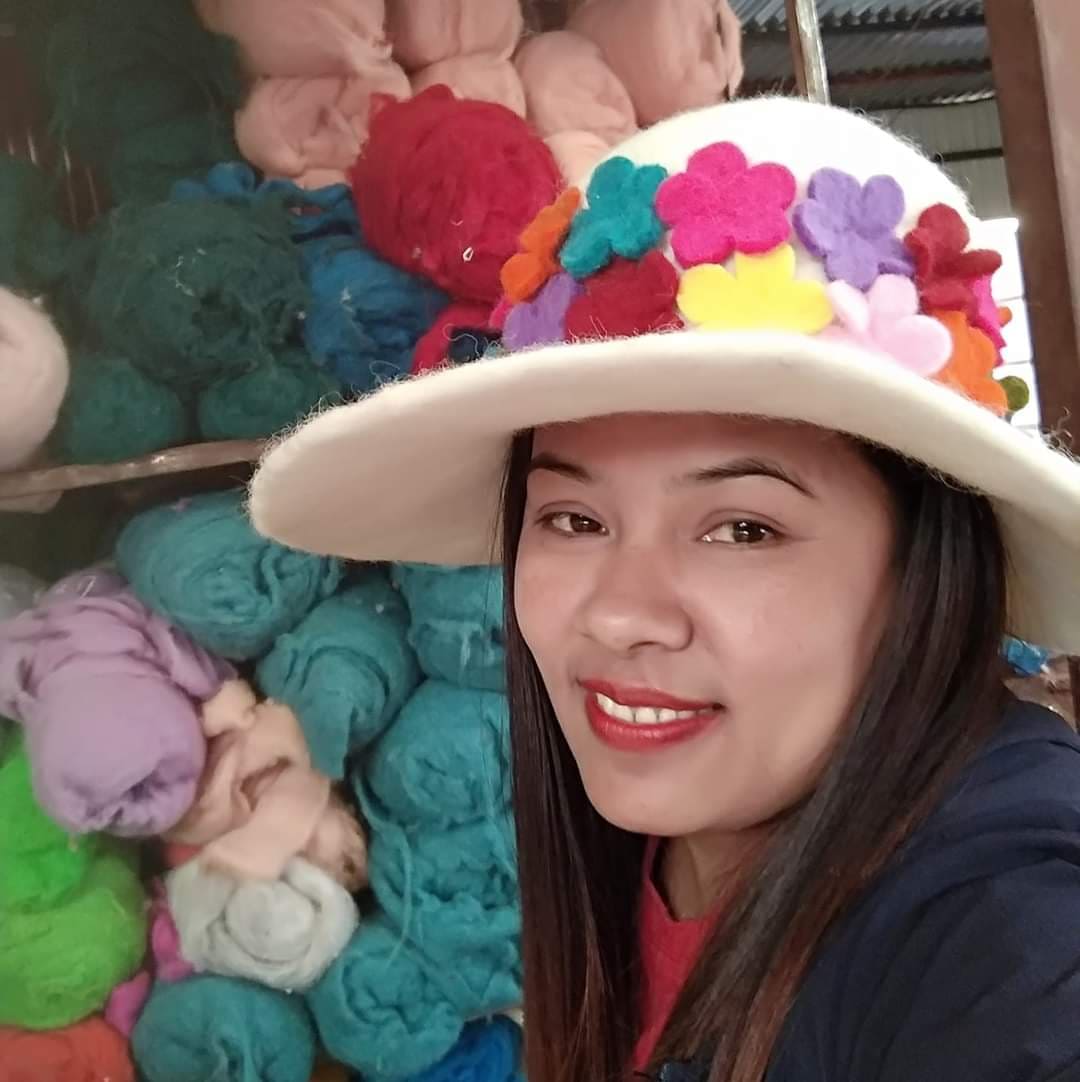 Lal Kumari Lama
Lalkumari is a very sweet yet conservative woman. At a very young age, she was bonded with a marriage. The newlywed couples came to Kathmandu to start a new life together. Everything was going merry but one day her husband fell very ill. Besides their utmost endeavor, he could not make it through and fell into arms of death. To make the situation worse, Lalkumari was bearing a child in her stomach. 
The overhead of hospital bills was so high that it used up most of the earnings and savings. That led her alone with poverty, whereas her husband was the only breadwinner. The most heartbreaking part was when her husband's family denied providing any support to the pregnant mother. She was left alone with no choice but to survive with the very little she had and coming from a poor household, her own family could not also support her. 
Risking her own and her unborn baby's life, she had to force her to do labor work. She barely had food to eat on her own and could not get any medical help for herself. After miraculously giving birth to her baby, this was when she got most desperate to provide for the child. She was hungry for opportunity and a better life. For a mother, there is nothing more precious than her baby. She fed her baby and provided him with every care he needed with her sweat, blood, and tears. The work was difficult and the pay was low and on top of that, her health and strength were undermining day by day. 
In the city, she lived in a small room, where she had no one to call her own except for her son. Her sad story was talked about around the town. When one of our artisans heard the story, being a mother herself it broke her heart. She searched for Lalkumari and offered to help her. And that's the beginning of a journey of her working in Felt and Yarn and learning felt needling art. 
She is the most hardworking woman we have ever encountered. Her worth ethic was beastly, she went above and beyond to earn as much money she can to provide safety, education, food, and clothes to her baby. 
Today, our single mother is raising a 10-year-old child. They both are inseparable, happiest when together. Her son is an intelligent child who scores A in all of his subjects, and he is healthy and loves sour foods. A mother wrangled with life, who beat the impossible even today is very quiet about her struggles. Whenever we ask her about her struggle, she just shrugs it off and says 'it is what it is, it was my fate, I had to do what I needed to. For me, my son is the reason why I'm breathing and living for."
So how are you feeling right now?
Hearing the stories of these three strong women is so inspiring. A continuous reminder that no matter how tough and never-ending your problems seem, there will always be happiness waiting for you. 
The main aim for Felt and Yarn is to be able to create a sustainable community to help women in need, to be able to stand on their feet and be independent. And this would have never been possible without the support of our customers throughout the years. Felt and Yarn thrive to create a bigger family and stronger bonds until no women are left out. To support us and the women in Nepal, please check our website and every purchase of yours is building a home and a roof above the head.
Thank you for reading, we will come back with stories of inspiring women. Until then, keep hustling!