6 Amazing Felt 4th of July Decor On A Budget For 2022
The Independence Day of America is just a couple of months away. The fourth of July is the time to celebrate the Independence of America.  It is always a great opportunity to host parties and gatherings for your loved ones on this day.
Inviting people to your place means it's time to start thinking about decorating your house. And what better way than to consider decorating with patriotic felt crafts this Independence day. You and your kids will surely love decorating your room in red, white, and blue crafts.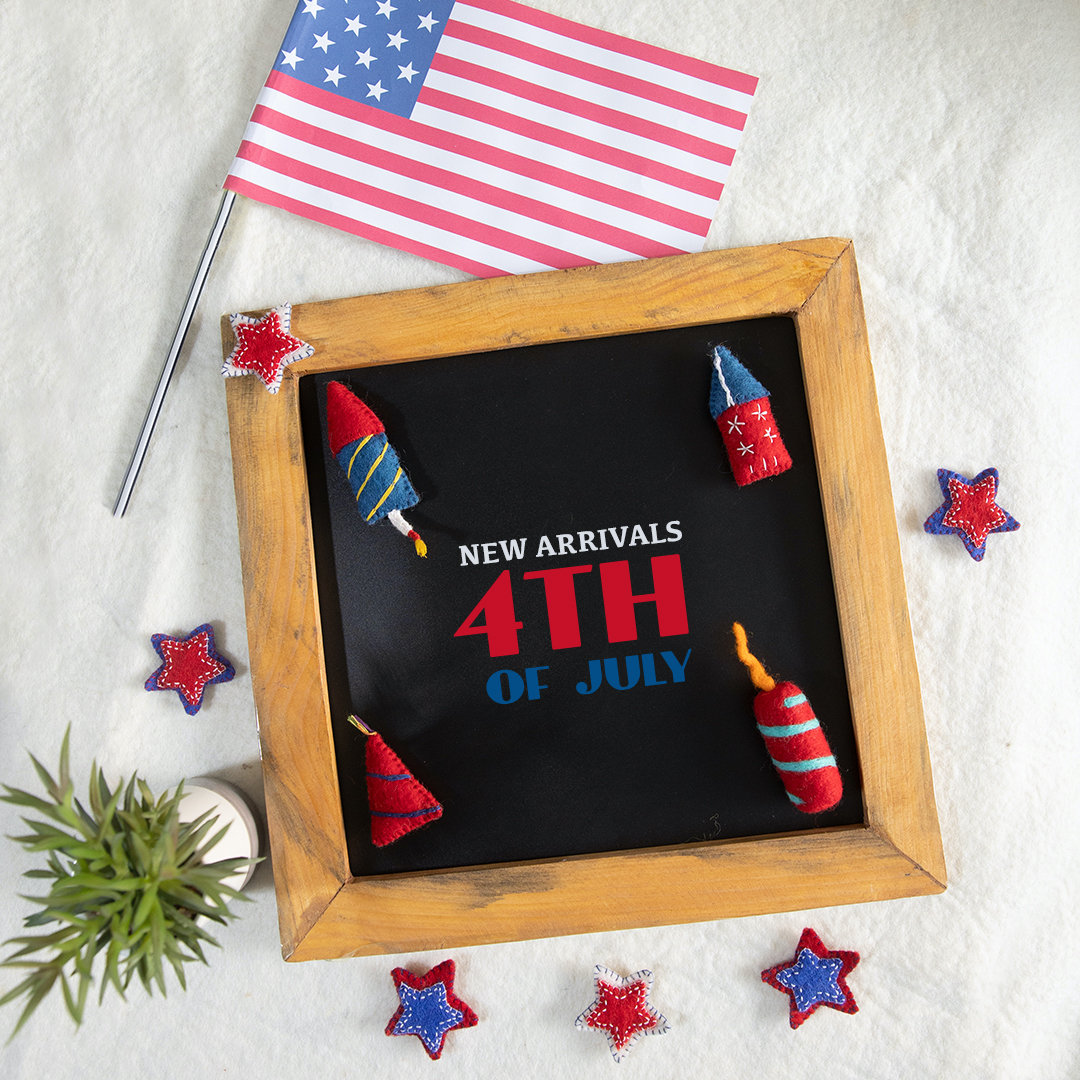 Here is a list of our favorite July 4th felt decorations. Let your imagination run wild and use these crafts as decor items for celebrating independence day. 
Welcoming Wreath
Independence day celebration calls for activities like barbecues, parties, and fireworks. From your room to backyards, the 4th of July also calls for decorating your house with everything red, blue, and white. 
You may decorate your front entrance with a July 4th theme if you're looking for unique ways to incorporate patriotic decor. It is, after all, the first thing your guests will notice when they arrive at your party. And the 4th of July wool felt wreath is the ideal craft for grabbing your guests' attention.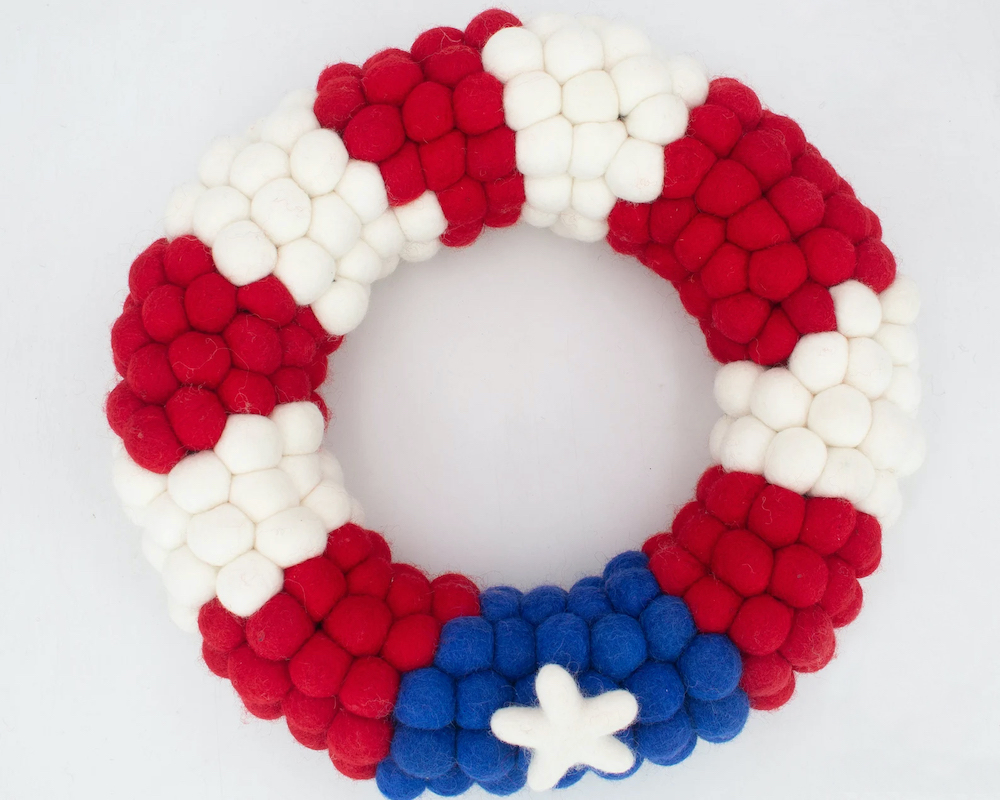 This handmade felted 4th of July wreath is the perfect decoration for any home of any patriotic American! This wreath's colorful red, white, and blue flowers are guaranteed to light up your home. You can also add a personal touch by using your favorite patriotic decorations.
Made with felt balls, this felt 4th of July felted wreath is a great decoration for your front door or to hang in your window. Along with your door and window, this can be also used as your dinner table centerpiece to show your patriotic spirit. 
Bold USA Banner
Nothing screams more of parties than your room decorations themed for the party. And what better way to decorate your room than using a banner? 
Finding a perfect banner for celebrating independence day might not be a hard task but finding one that screams true patriotism can be a hard task. Well, this 4th of July banner is perfect for your independence day room decor.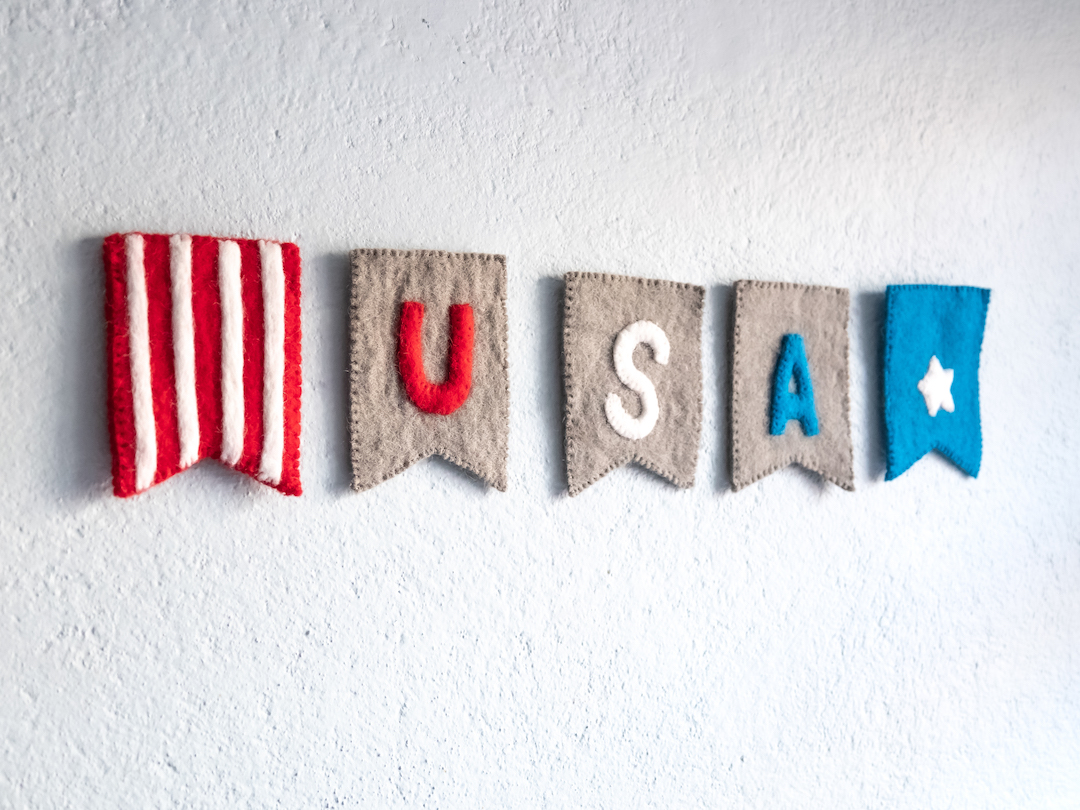 Hand felted with 100% natural wool, this independence day banner is perfect for front porch, party table, or wall decor. Made in USA theme, this stitch felted banner is a must-have for anyone who wants to show their patriotism. 
Our felted July 4th banner features a beautiful, festive red, white, and blue design with a USA letter and heart and star design. Give them as a gift to your family, or hang them as a garland or frame them on your door, in your window, or on your room wall or drape them over a table, the choice is yours.
Glorious Gnomes
Celebrating the festival during the summer season means enjoying more outdoors rather than indoors and rooms. From barbecue to fireworks, you will also be celebrating independence day mostly outdoor.
Enjoying and commemorating the independence day in your garden or porch means decorating those spaces too. But if you can't choose the perfect decor prop, it can be a real problem for you and might ruin your decoration.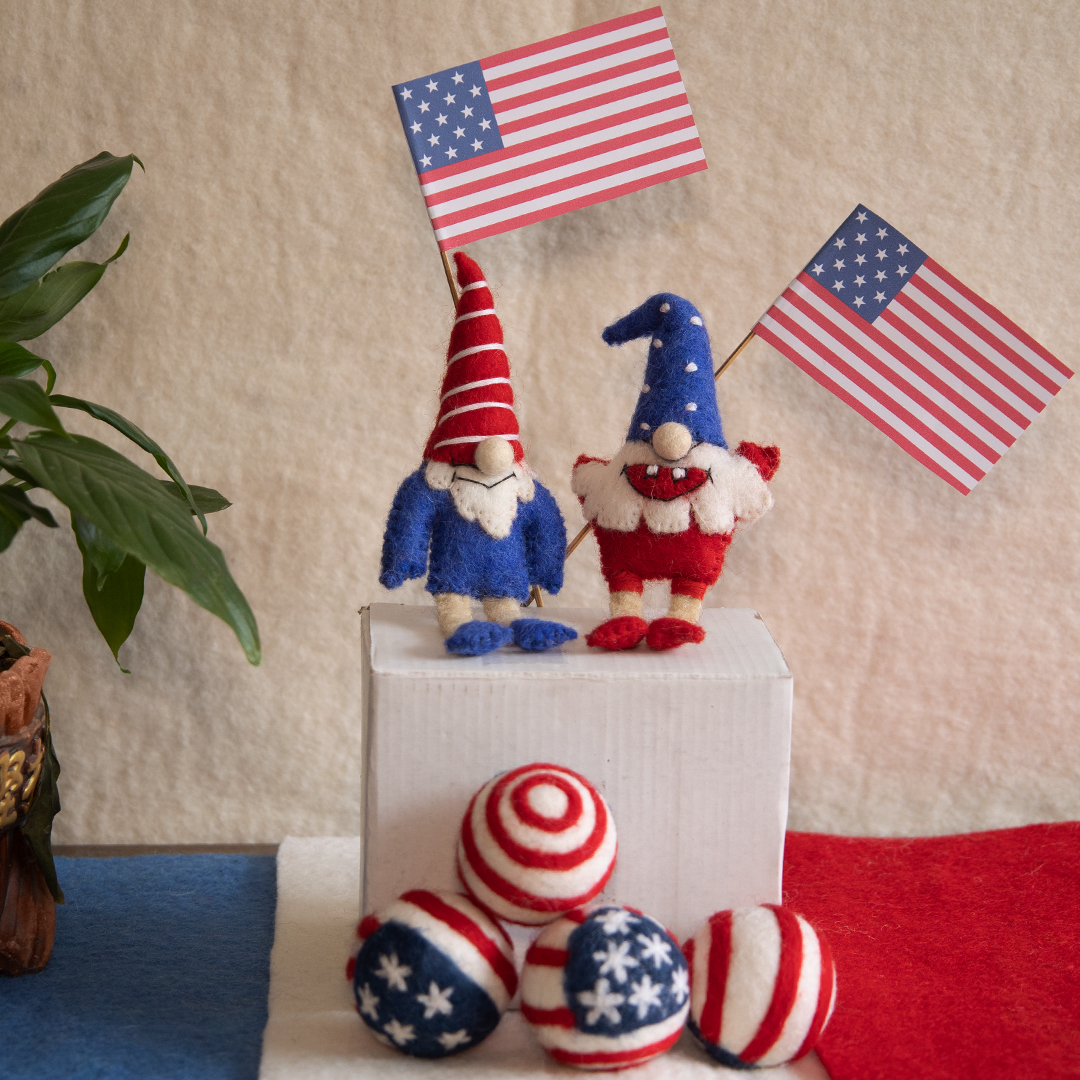 Well, along with your banner and wreath, gnomes can also be a great addition to your garden decor. A versatile decor prop, these felt gnomes are a fun addition to your outdoor decor as well as indoor decor too. Our 4th of July Gnomes can be a creative addition to your independence day decor theme. 
With the intricate design and made with great care, these gnomes are perfect as room decor props or as your kid's toys too. 
Creative Craft Supplies
Celebrating a festival or event is hard with your kids constantly nagging and asking for things to play with. And this Independence day celebration is also going to be the same with your kids running around and playing with other things.
But what if you can find products or craft supplies that can be used as a 4th of July theme decoration as well as a fun toy for kids? Well, it is hard to find such products or crafts that can match both of your needs but we have got your back.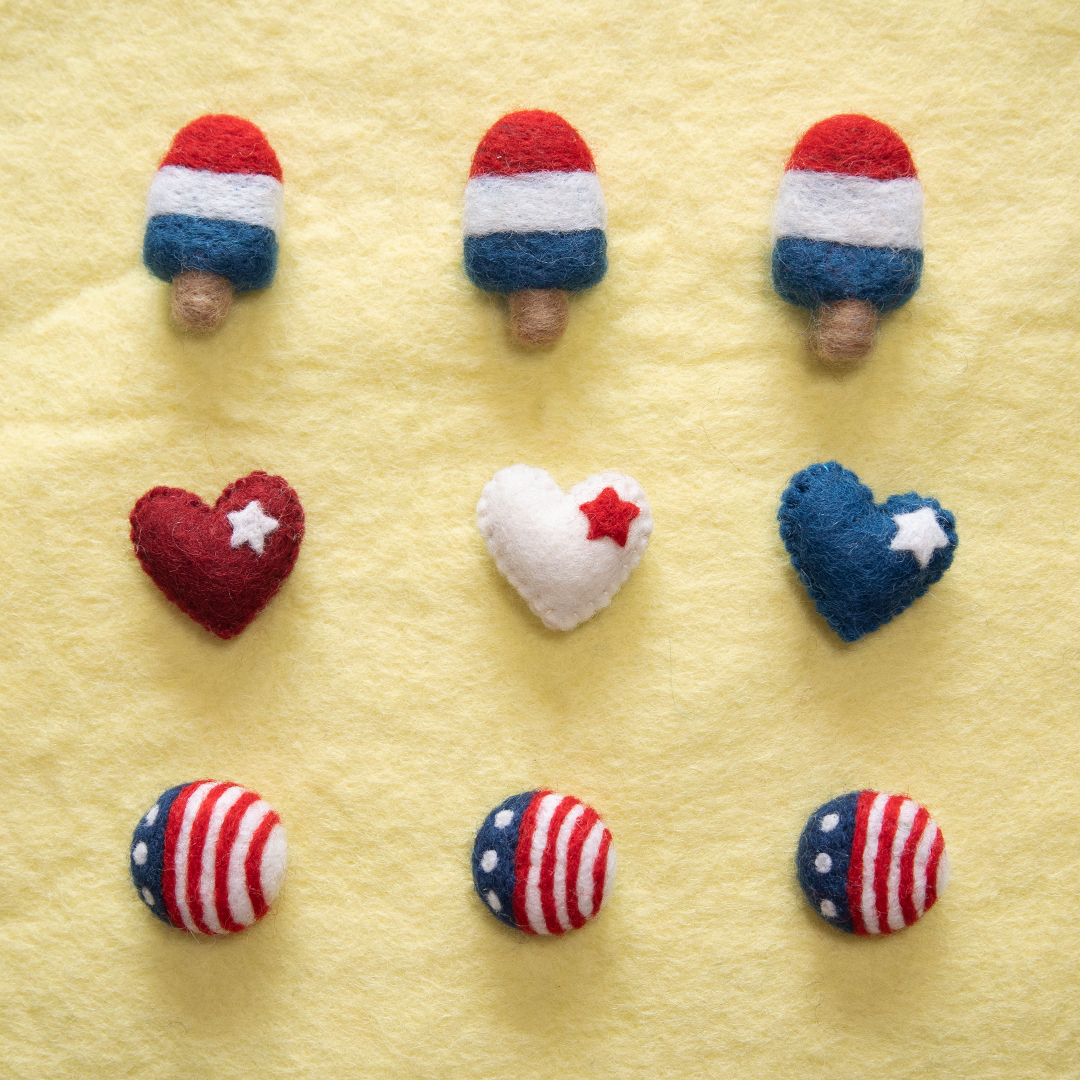 A great play toy for kids as well as a good decor prop for the independence day celebration, our 4th of July products is what you should get for this year's celebration. From red, blue and white felt popsicle sticks to American Flag-themed hearts and stars, you have different products to choose from. 
Make your kid's heart melt with felt popsicles or decor your room with red, blue, and white while your children play with these crafts while you celebrate the joy of Independence. Perfect decoration for any party, tie them together to make a garland or make them as a hanging ornament, the choice is yours.
Festive Firecracker
A great fireworks display is a fun activity in each celebration, and the Fourth of July is no exception. 
It is a fun activity to celebrate using fireworks but the fun might turn into a disaster if you or your kids are not careful with them. You might burn your house or the firework might explode in your hand. And if your kids get to play with fireworks, the activities might result in mishaps and accidents.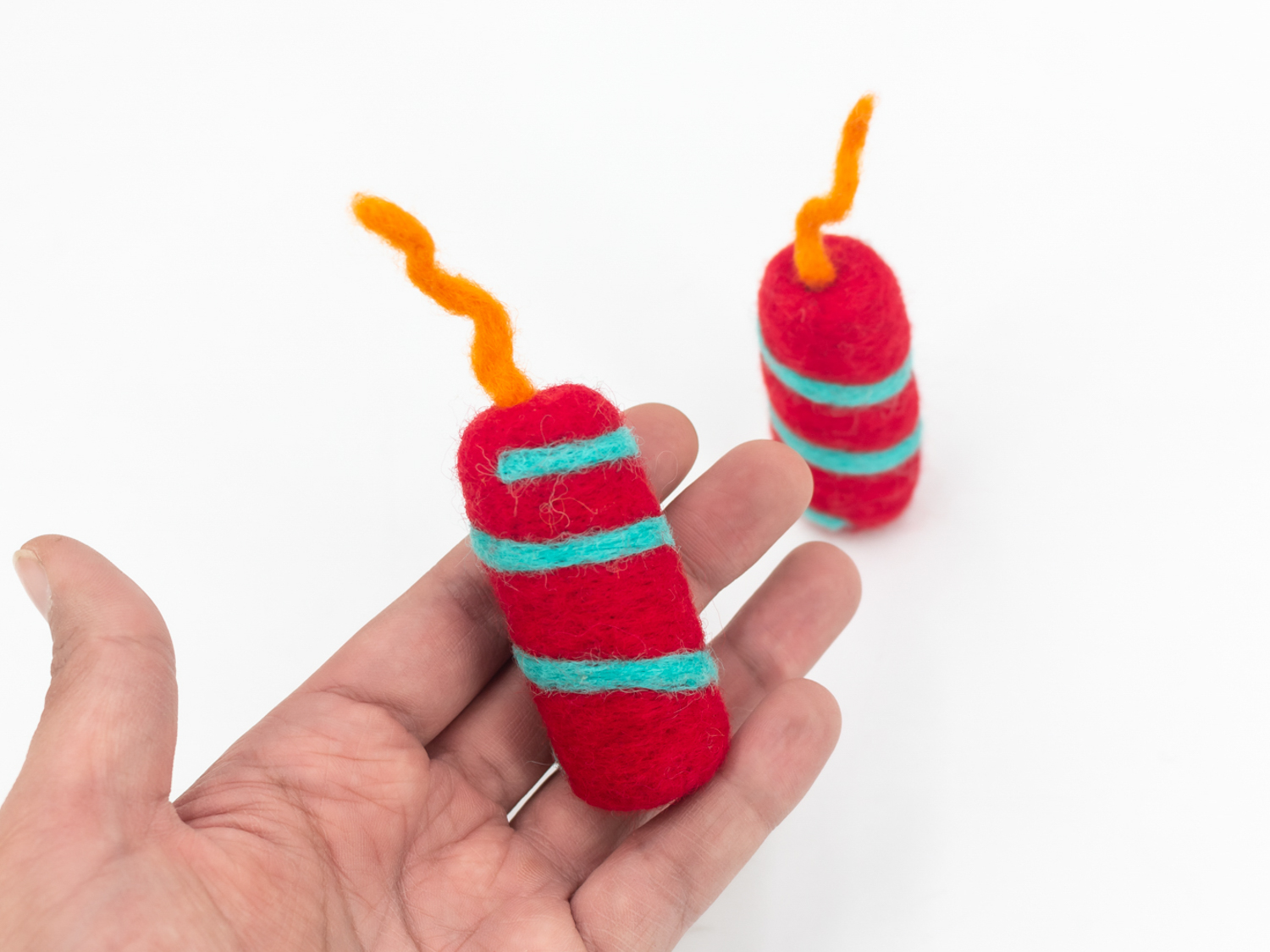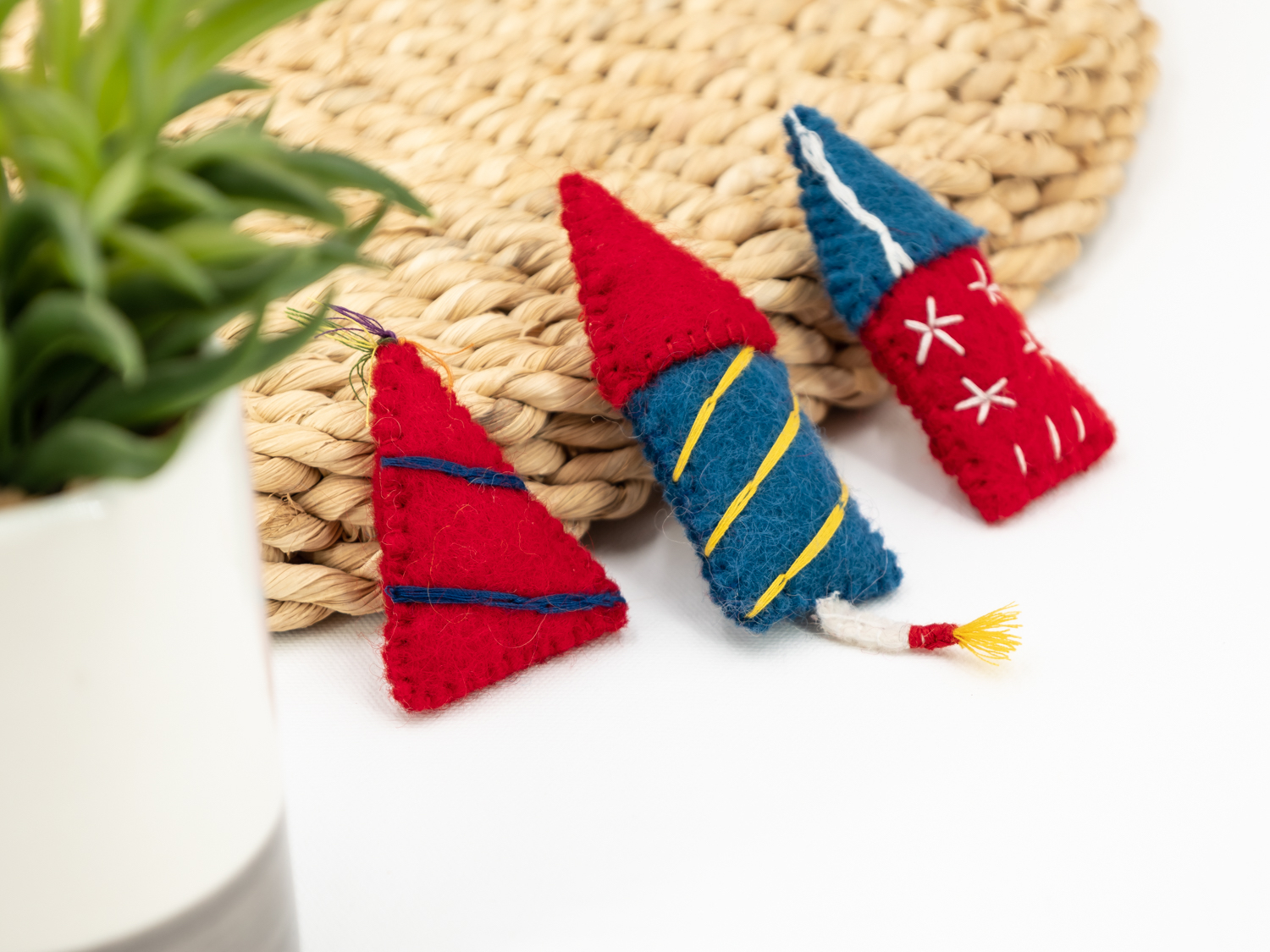 However, your kids will still want to play with a firecracker and you might be looking for a firecracker toy that your kids can play with without any danger. Our felt firecracker is the best option that you might be looking for. 
A perfect toy for your kid for patriotic celebrations, our needle felted and stitch felt firecracker toys can be the best and safest option. Use them as a gift to your kids or use them as decor, these felt firecrackers will let you have blast this Independence day without noise. 
Beautiful Baubles
With all these 4th of July crafts to decorate that we have mentioned above, we still want something more to decorate your room with. Celebrating July 4th by getting creative while being patriotic is what we all want.
These July 4th baubles are perfect for celebrating America's independence! These baubles are made by felting natural wool that screams patriotism and is sure to be a hit with all of your friends and relatives. They're perfect for hanging on a tree, adding to a wreath, or giving as a gift and getting you into a festive atmosphere.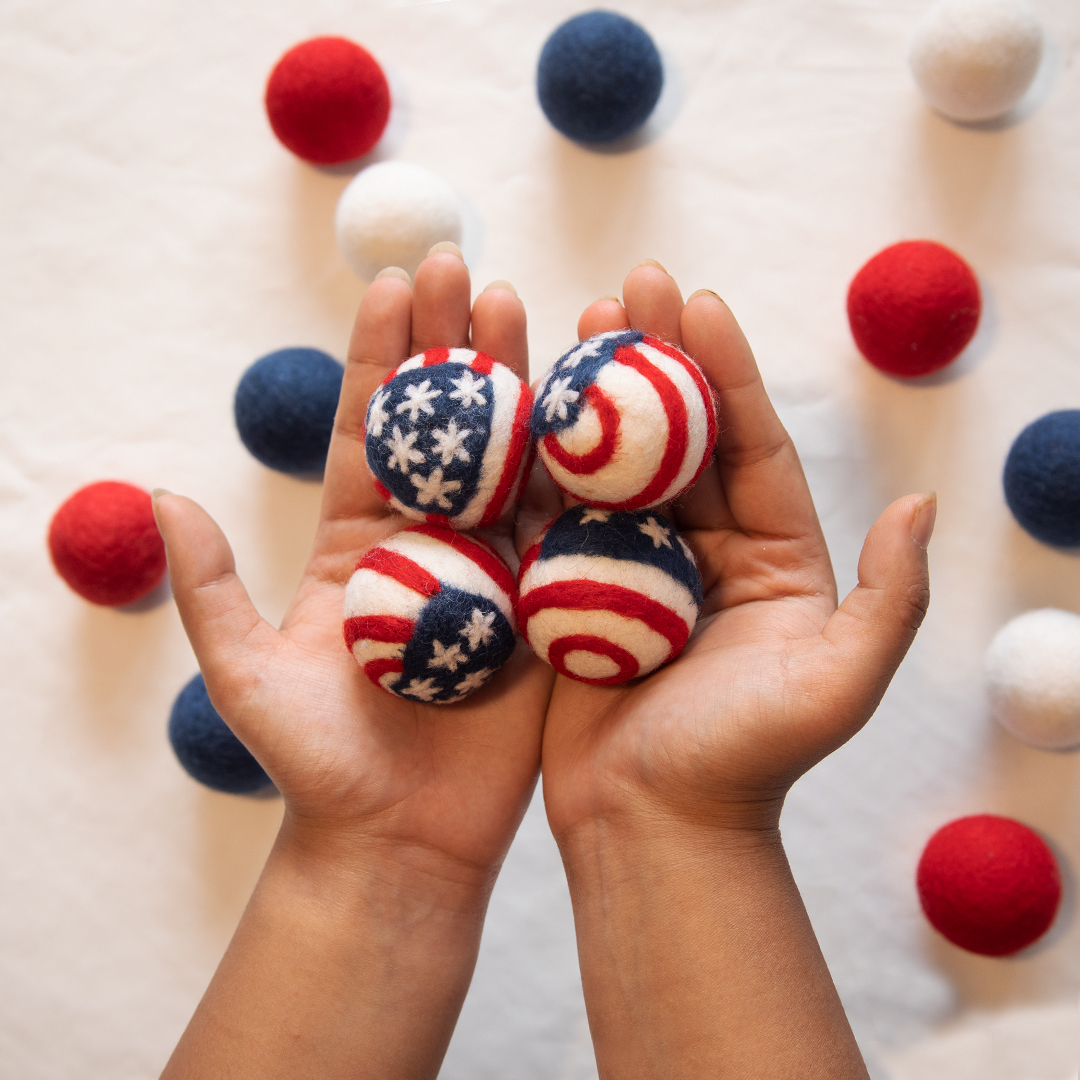 These July 4th baubles are blue, white, and red and will be a great addition to your July 4th decorations. Durable and long-lasting, you can easily revamp your decor with these felt baubles at very affordable prices. These baubles will surely create a magical outlook on your entire decor with their amazing design and uniqueness.
So here you go, 6 of the amazing decor for the 4th of July celebration that you can get at a very affordable price. You can also find last-minute felt gift ideas and hacks to enhance your decor in our previous blog. 
Do you want these felt products to enjoy your patriotic holiday? Find these felt products in our online store or at our Etsy Shop. 
comments (0)
No comments at this moment
New comment