Felting FAQs: Your Common Felt Questions Answered
What is felting? How is felting done? What are the uses of felt products? Are our felt products made in felt and yarn made in fair working conditions? These are some of the most common that we get asked here at Felt and Yarn. 
Well, one thing we all know is that felting is an old method of creating wool craft items. Felt crafts are a great way to decorate your home with fabric crafts. And there are many other uses for felt crafts made using various methods of felting.
When it comes to felting, there are a lot of questions. Here are some of the most frequently asked questions regarding felting, along with their answers.
What Is Felt? How Is Felting Done?
Well, this is the most common question that we get asked about felting. Felt is textile material made out of wool by matting, condensing, and pressing the wool fibers together. 
Felting is a technique that creates a fabric with a dense, flat surface by matting wool fibers together with moisture and heat. It is the process of making felt crafts using natural fibers like natural sheep wool, animal furs, etc using different techniques. Each felting technique or process will condense the fibers together tightly.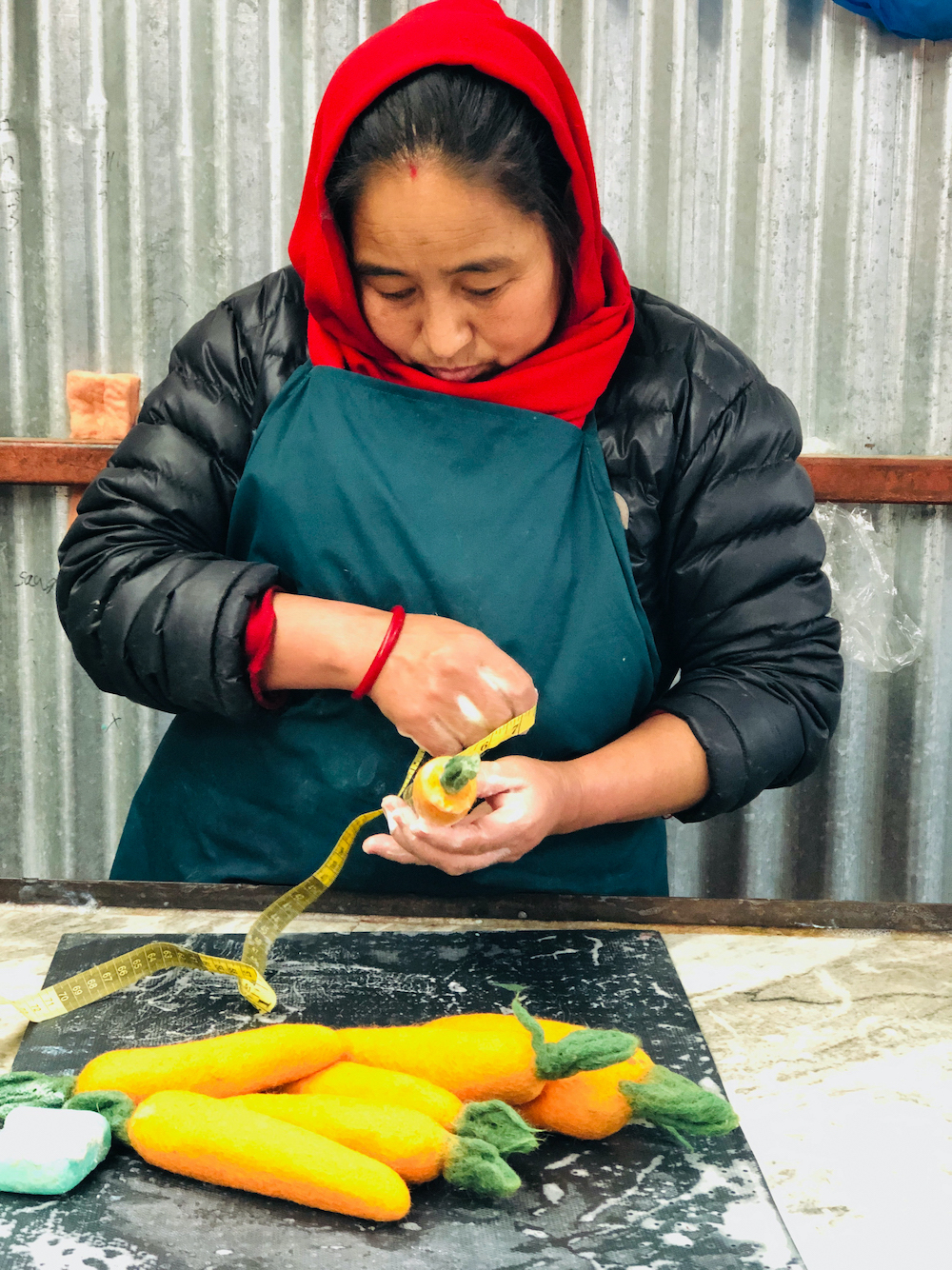 Felting can be used to manufacture a variety of objects ranging from little craft supplies such as balls to larger items such as shoes and bags. Felting can also be used to produce a variety of designs and patterns.
Learn more about the definition of felting here.
What Are Common Felting Methods? 
Now as we know that the felting process includes matting, condensing, and pressing the wool fiber together, there are multiple methods to perform these processes. There are many felting techniques like wet felting, needle felting, Nuno felting, resist felting, cobweb felting, etc. 
While there are many felting techniques and methods, the most common and prominent felting methods are wet felting and needle felting techniques.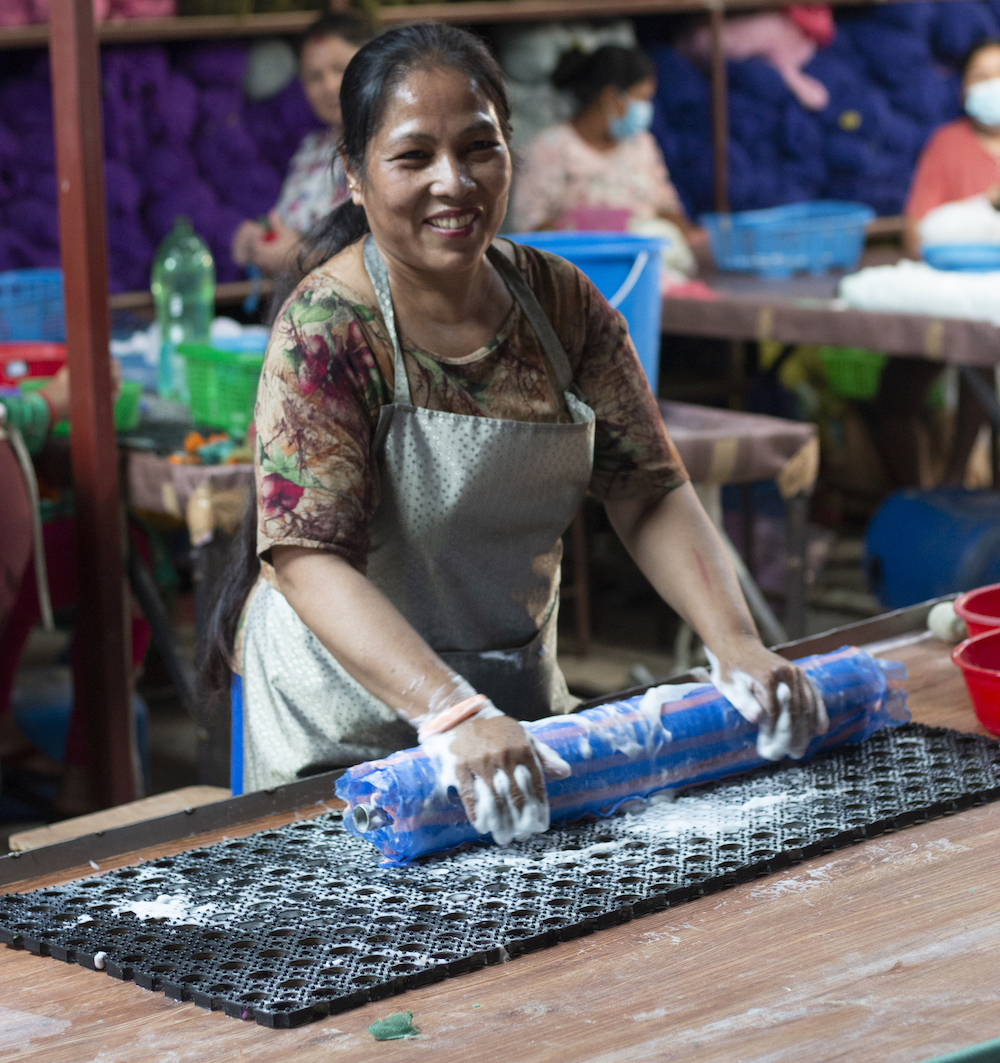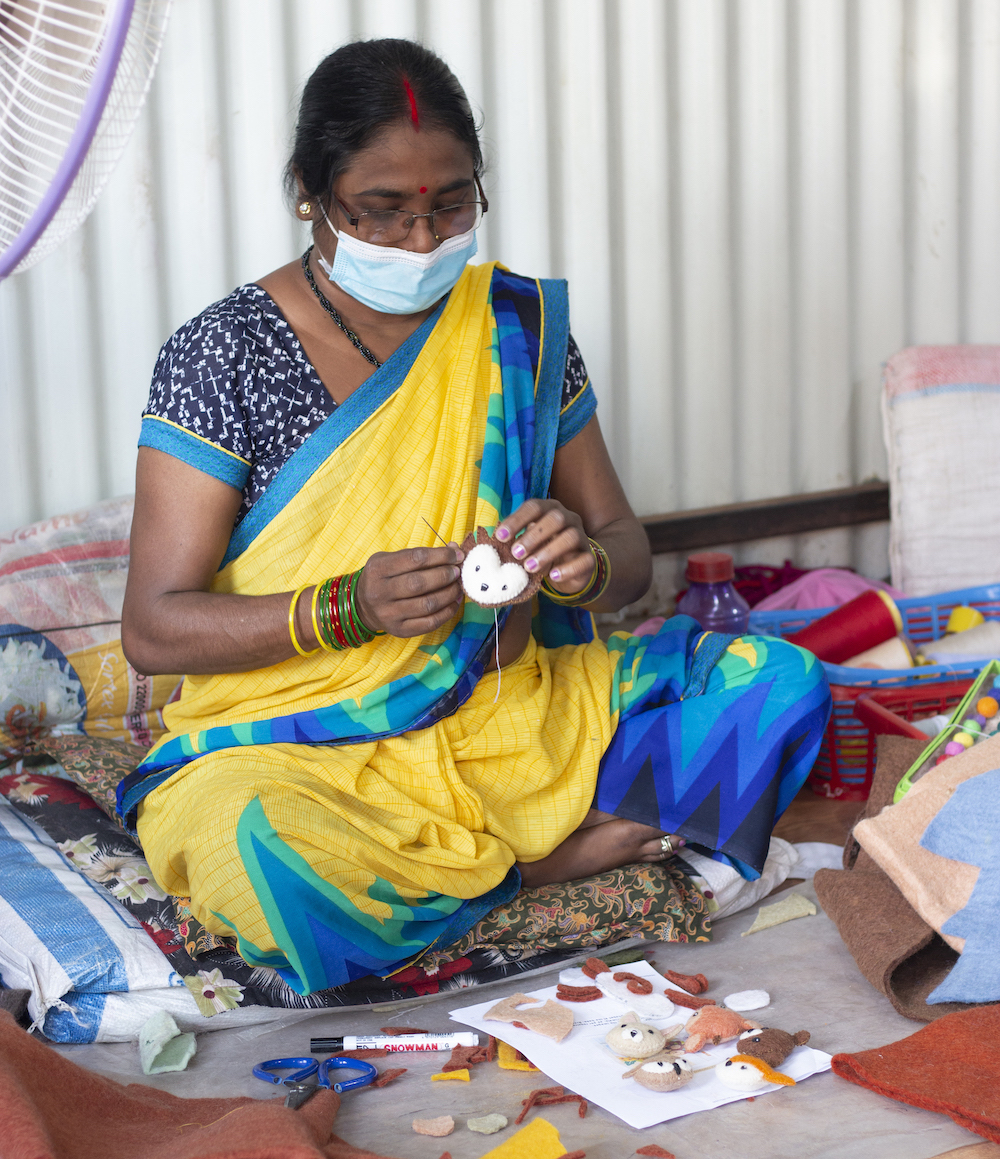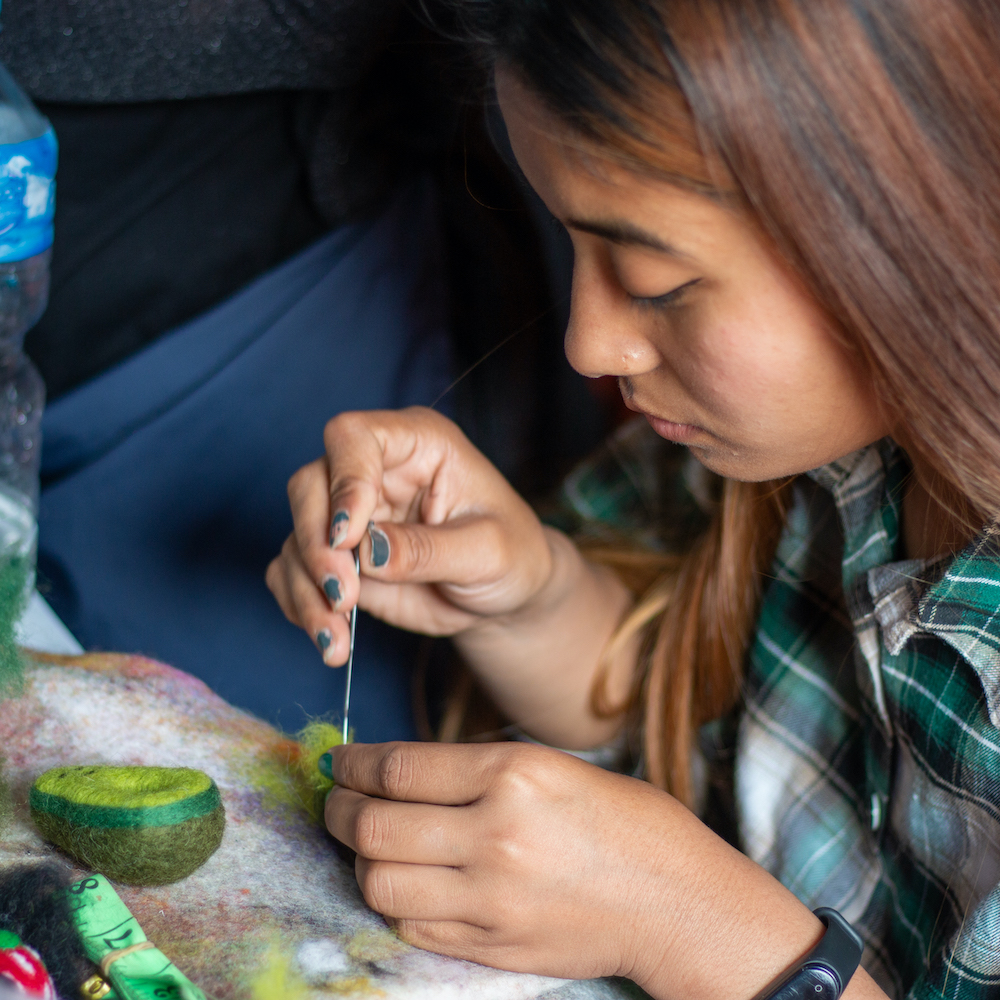 Wet felting is the process where wool fibers are bonded together with soap and warm water. The wool fibers are layered on top of each other at an angle of 90 degrees and are pressed together with the felting mat. Once the desired thickness is achieved, the wool fibers are combed together to produce a tight bond.
Needle felting is a dry felting method that uses a small needle to push loops of wool or other animal fibers into one another to add fine details to crafts and to create 3D objects. The process includes a lot of stabbing of wool using felting needles. It can also be a hobby that can be learned by almost anyone and can be done on any budget.
You can learn more about felting techniques in our blog 'A beginner guide to felting: felting technique 101'. You can also learn the difference between needle felting and wet felting techniques here.
Why Felt Products And What Are The Common Use Of Felt Products?
Many people wonder why they should use felt products when they can simply get factory-made substitutes. Long-term multiple-use and sustainability are the easy answers to that query.
Felt products are made using 100% natural and organic resources. This already makes it way better than other products made from substances like plastics and others. As these products are made using natural materials, they are easily biodegradable and are sustainable for the environment.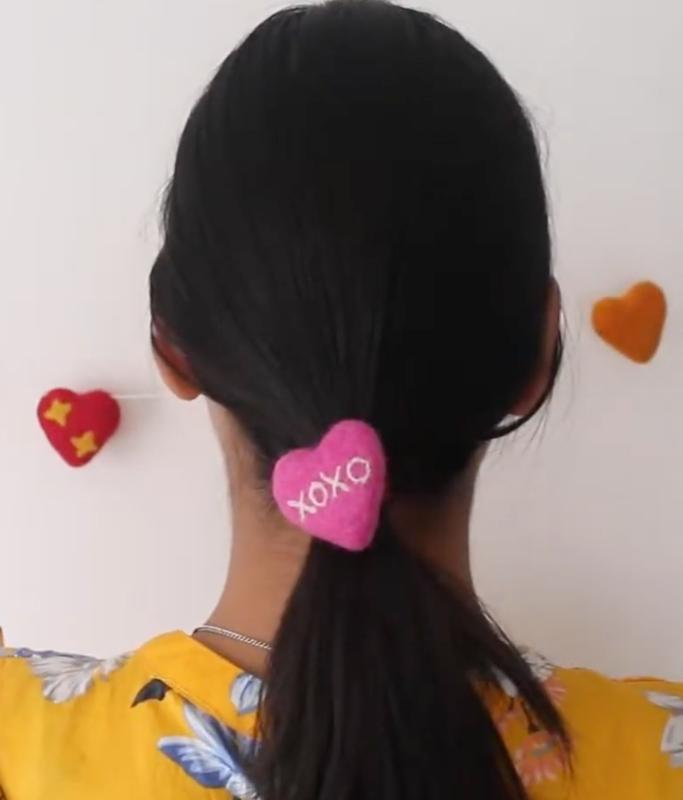 Learn how you can have sustainable living and how you can invest in our planet through felt products here. 
Felt products also have multipurpose usage. You can buy felt products for one use and have multiple uses of the product. Your felted cat cave can be a decor item, while you can use felt craft supplies to make a garland or hanging ornament etc.
As these felt products are sustainable, eco-friendly, and have multipurpose use, there is various use of felt products in practical life. For design purposes like interior decors, fashion design, photography backdrops to using them as furniture, office supplies, etc. there are various ways you can use felt products.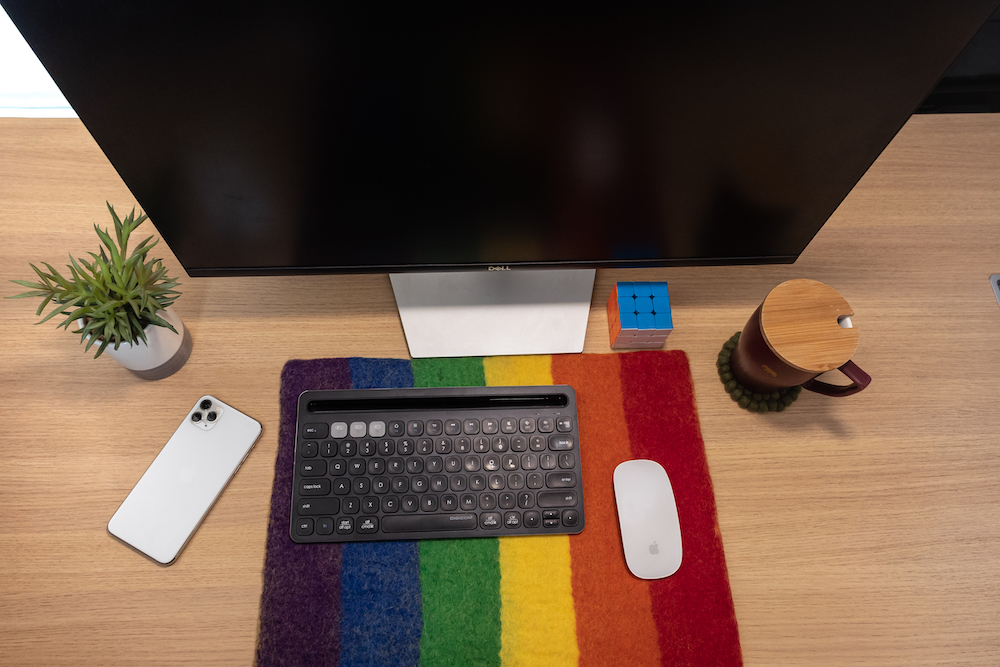 Felt products are also used for soundproofing the room and can be used as toys, accessories, etc. Such numerous sustainable use of felt products in our day-to-day life makes it the perfect product to opt for.
Why Nepalese Handmade Felt? And Why Felt And Yarn?
There have always been questions about the genuine and originality of handmade products available in the market. We also get questions about the availability of machine-made felt products and such products being cheaper and similar to handmade felt crafts.
People who are fond of original handicrafts find it hard to select the best and most original handicrafts manufacturer. Nepal is one of the top countries when it comes to finding the best handicraft manufacturers and suppliers.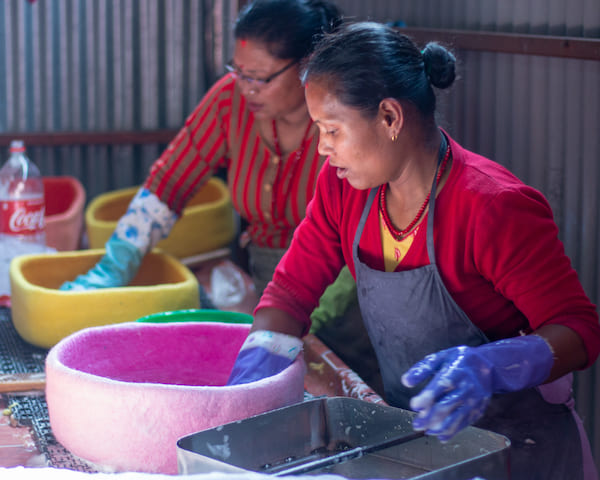 Apart from being the best handicraft manufacturer, most companies also promote and provide support to mostly local women. And Felt and Yarn are one such company providing support to local women of marginalized communities. 
Felt and Yarn have been a leading felt manufacturer and supplier in the past decade. The availability of a wide range of products that too at an affordable price has made Felt and Yarn the best choice for most of the clients. Felt and Yarn also emphasize making products in fair working conditions which is why Felt and Yarn has been awarded Goodweave, Sedex and Fair-Trade certified too.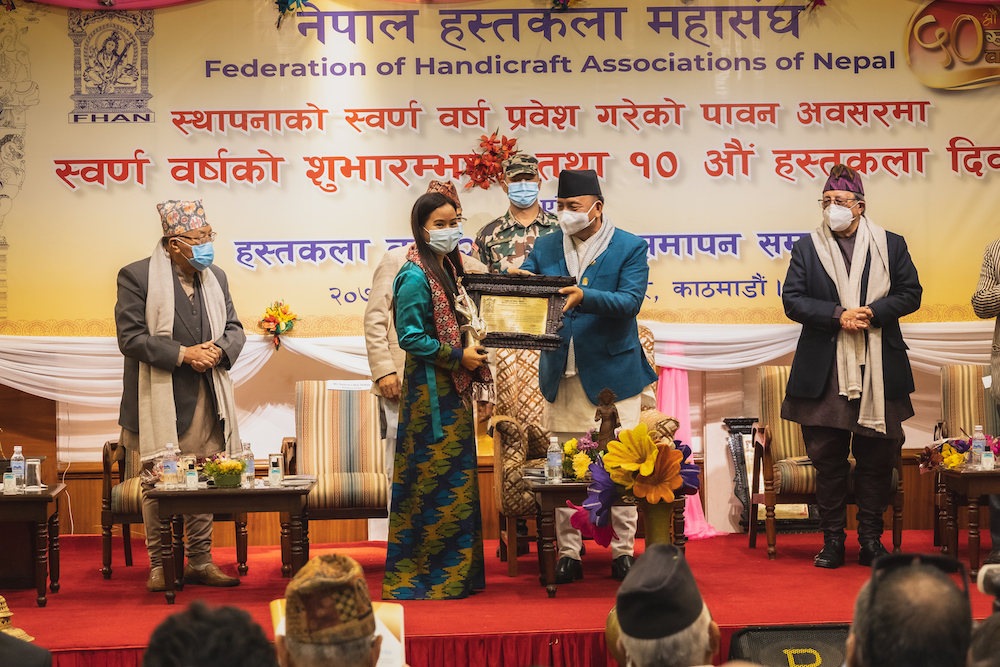 From the availability of a wide range of affordable products to getting your products delivered to your doorstep, Felt and Yarn is the best place to find your felt handicrafts. Find out secrets to selecting the best-felt supplier here. 
Are Our Felt Products In Felt And Yarn Made In Fair Working Conditions? 
Poor treatment of the staff and workers and the use of child labor have always been a big issue in companies established in developing countries. We always get asked if our artisans are treated fairly in the workplace and if there is the use of child labor in the production process as we are also based in Nepal, a developing country. 
Felt and Yarn are operated under the company's core values and philosophy of fair working conditions, transparency, and sustainability. Under the company value, Felt and Yarn produce crafts under safe conditions by well-trained adult artisans. The company is strictly against child labor and encourage fair working condition thus has been certified by fair trade and Goodweave certification.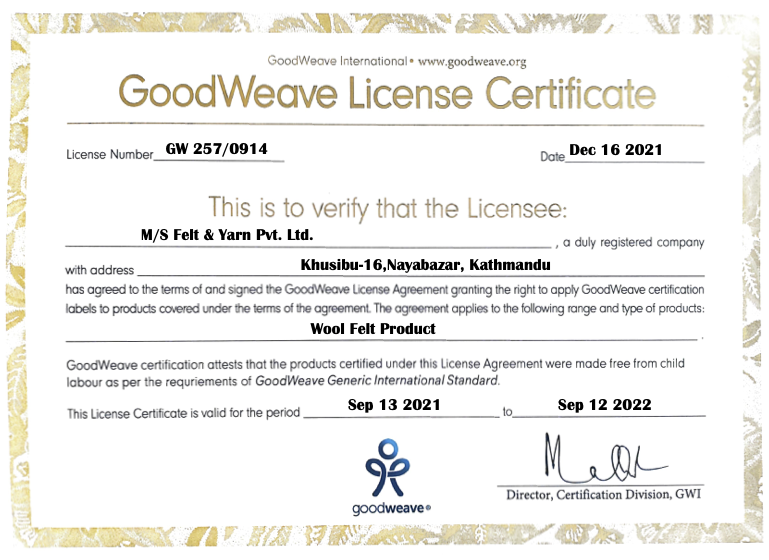 Felt and Yarn also provides free training to the artisans frequently and emphasize providing a diverse and transparent working environment. Thus artists from any background are treated equally with common decency and are provided with equal opportunities.
Learn how our artisans are coping with harsh reality and breaking the barrier by working with Felt and Yarn here.
How Are Products Dyed? Are Products Customizable? 
We all know wool fiber is obtained from sheep which mostly comes in white, black, and brown hues. Thus, we're frequently asked how we dye our wool and how many color options wool do we have? In addition, we are also frequently asked if the items are colored using natural compounds and if they have any adverse effects.
Felt and Yarn use natural compound dyes to color the wool. Felt and Yarn provide more than 90 varieties of color option and all of these colors are made with azo-free dyes. These dyes are free from harmful chemicals and toxic substances like bleach and others.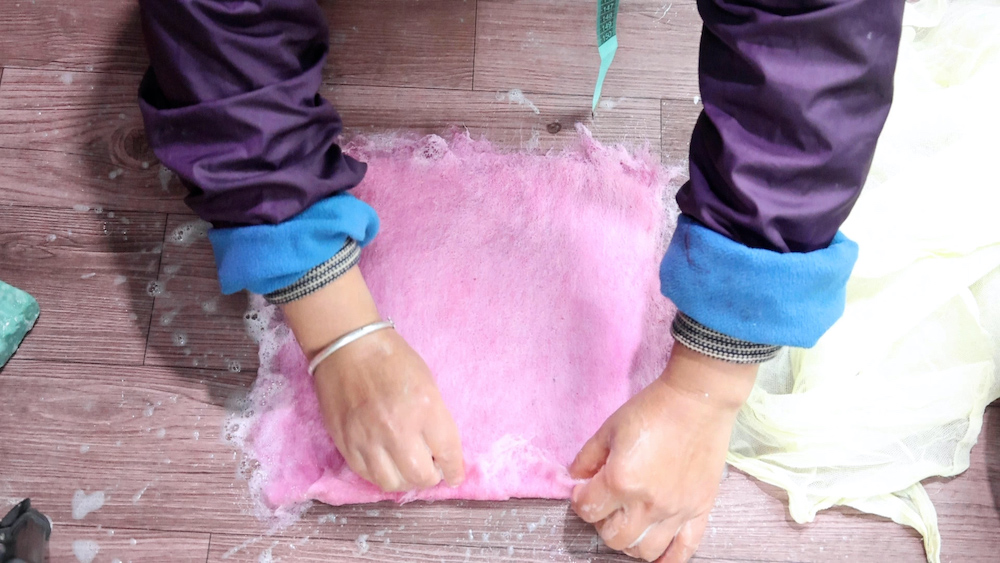 With over 99 different color options, you can choose to customize your crafts in any color you want. Moreover, you can even customize the design of your crafts the way you like. And the best part, you don't have to pay a huge amount to customize your products. You can do it at a very nominal cost.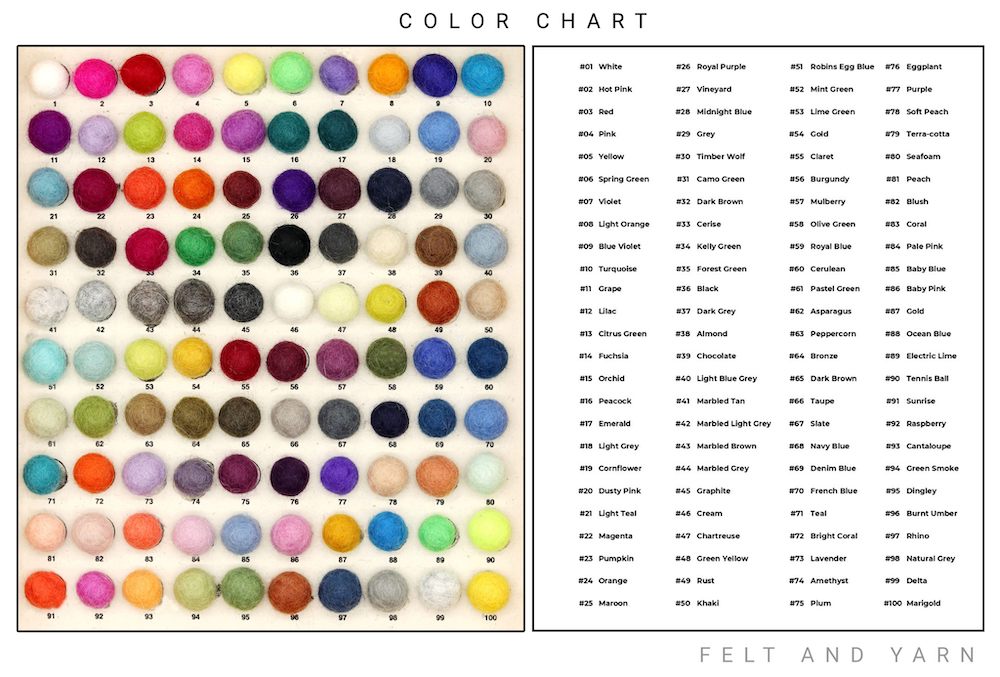 Are These Felt Products Good For Kids And Pets?
Felt products are a great substitute for your plastic products and toys. With varieties of products available at Felt and Yarn, you sure can find products for your kids and your pets too. From interactive children's educational toys and products to pet toys and pet beds, you can find a good alternative to plastic toys and products.
However, with the use of various dyes and procedures to manufacture these crafts, we all have one question: is the use of such goods safe for your children and pets? The simple answer is that they are ideal for both children and dogs.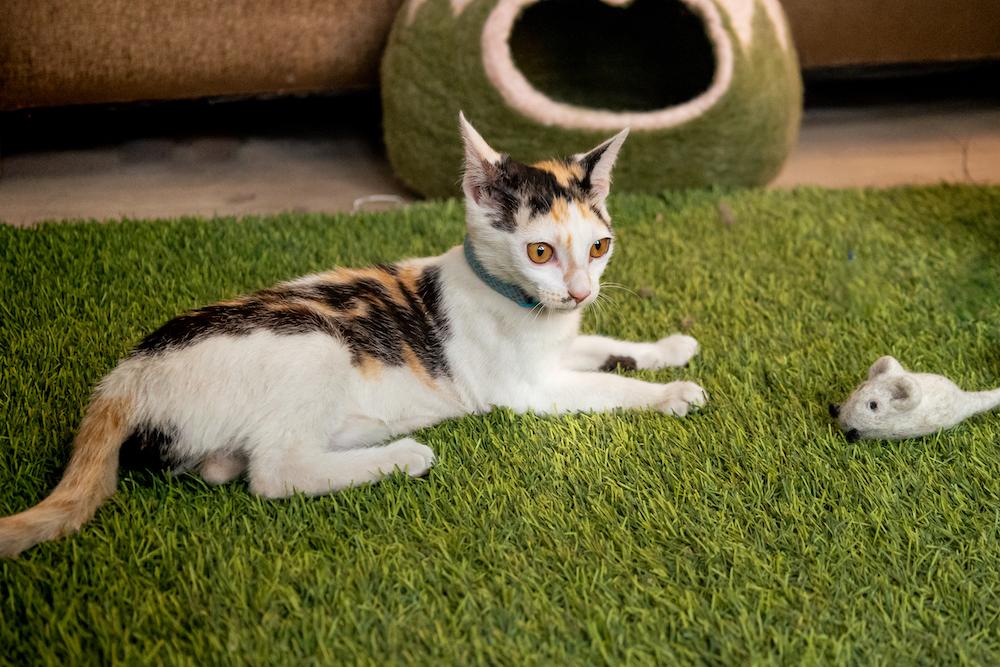 First of all, felt products are made using all-natural substances like wool and are dyed using azo-free dyes that we mentioned in the above point. Learn more about 9 of such kids' safe interactive pet toys as well from our previous blog.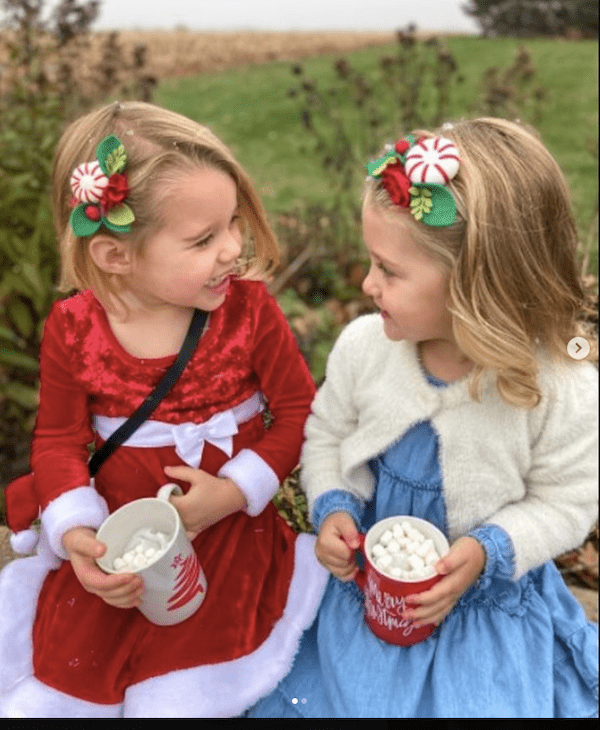 Also, find the ultimate guide to pet-friendly felt products that are perfect for your fur babies and find out why felt products are best for your pets.
Are Our Felt Products Durable? How Do I Clean Felt Products?
We all look for products that last for the long term. We all want our investment to be worthy so we look for products that are strong and durable. 
Felt products in Felt and Yarn are made from carefully handpicked 100% natural wool sourced ethically from New Zealand. Along with making crafts from the best wool, the crafts and products are lovingly handmade by local women artisans.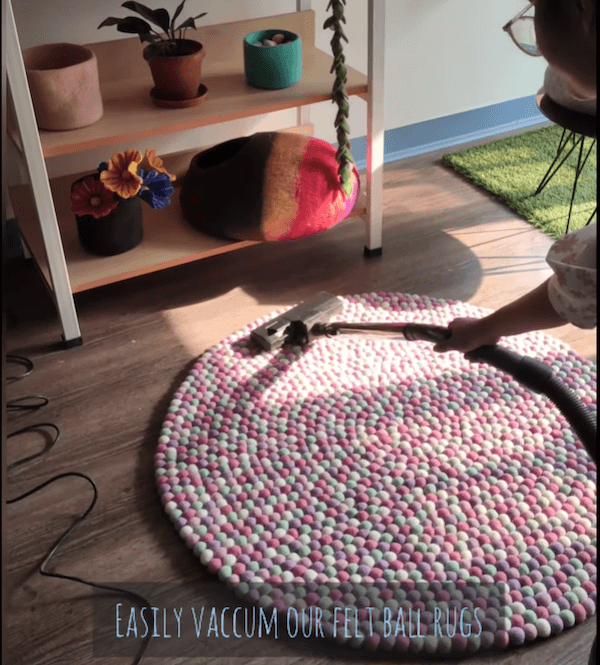 This makes our felt products worth investing in compared to other products. The durability of wool felt products has made them the choice for many in recent years. And the best part is that these products are renewable and biodegradable, so you won't have to worry about the planet when you dispose of these products. 
While these felt goods can resist heavy wear and tear, they can be easily ruined if they are not maintained. Cleaning felt item is a simple process. A simple dusting will do for quick restoration, however, certain tough stains would require the use of soapy water to remove them. Learn how to clean felt products as well as all of the cleaning tips and methods from our previous blog.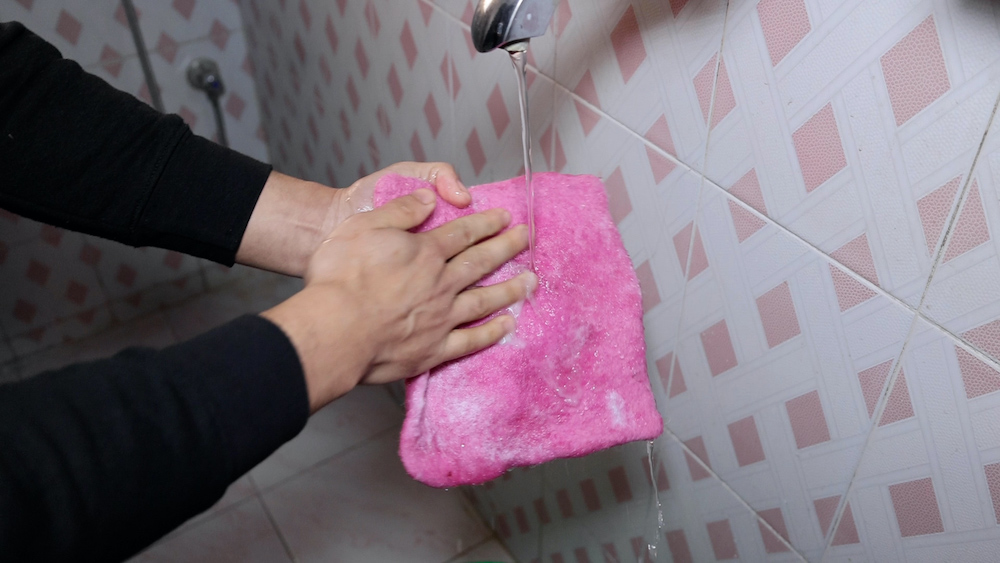 Can We Make Felt Products By Ourselves? 
This is one of our clients' and customers' most often asked questions. We all wish to express ourselves via art and crafts in some way, and felting is one of them.
Making a felt product isn't as difficult as you might assume. With some basic materials and your imagination, anyone can make felt crafts on their own. Making felt at home, on the other hand, may not give you the perfect result you desire, but all you need to do is discover a simple and basic instruction to take you through the process.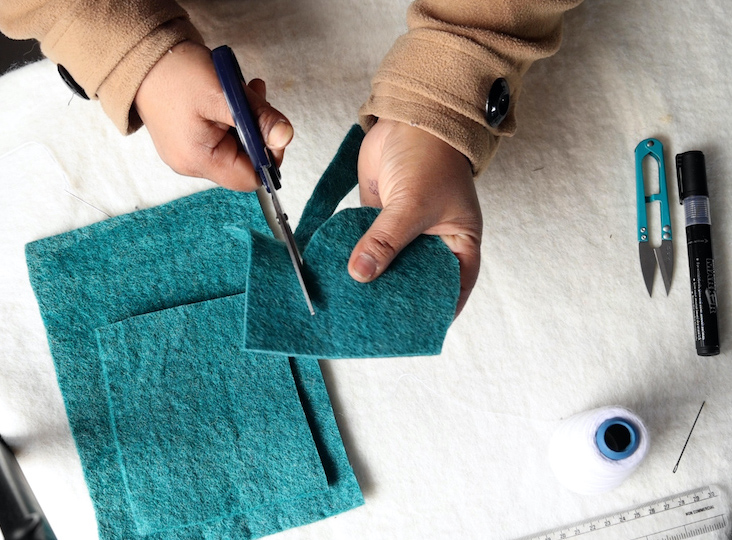 Basic wet felting and needle felting techniques are covered in the previous few tutorials. You may simply learn to construct a few basic crafts by using your imagination and following our step-by-step instructions.
You can also get quick help by watching our tutorial video on our YouTube channel.
Here you go, here's a summary of some of the most common questions we receive in our email. We're confident that these FAQ responses have answered your questions.
Do you have any questions concerning felting or our business? You can contact us via email or through our social media platforms. All of your questions will be gladly answered. Also, find varieties of felt crafts from our website and Etsy shop. 
comments (0)
No comments at this moment
New comment